Events & Workshops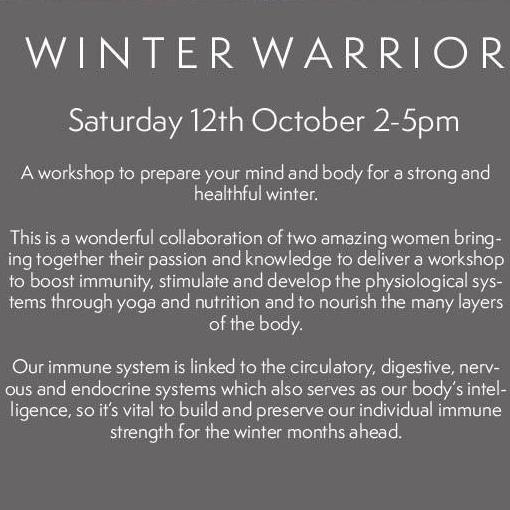 During this replenishing workshop Becky will guide you through a dynamic vinyasa flow practice stimulation the circulatory system. She will move deeper into twists and longer holds to engage the digestive and respiratory systems. The latter part of this practice will involver longer holds, to work past the muscles and begin to activate fascia and the meridians associated with immunity. The practice will close by moving into the restorative and healing poses on the ground. This will encourage replenishment, both physically and mentally, it will reawaken your body inner intelligence to feel stronger, healthier and more grounded than before.
We will have a refreshment break with an anti inflammatory, warming golden milk and then move onto the second half of the workshop.
Lois will advise and inform us on how good nutrition and gut health is essential to build a strong immune system.
Our immune system offer protection from seasonal illness, stress and other inflammatory health problems. Our immune system is challenged throughout the year due to many factors. Lois will demonstrate how a healthful, balanced diet plays a vital role in staying well and will provide you with the knowledge on how to include and apply the specific nutrients, eating habits and dietary advise to boost your immunity from the inside out!
Please reserve your place by contacting the Yoga Shed direct on: 01462 433597
IMMUNITY FOR VITALITY – AN AROMA YOGA WORKSHOP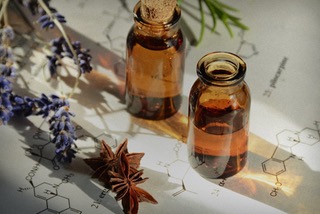 You are warmly invited to join Becky and Stephanie for this special seasonal workshop, 
to boost immunity and bring nourishment to body, mind and soul for the winter months ahead.
During this workshop Becky and Stephanie will be offering a blend of experience and knowledge to build and preserve your individual immune strength. 
Combining aromatic acupressure and dynamic asana 
to stimulate these physiological systems, 
we will align the physical and mental body and create optimum conditions to activate the natural healing processes of the body, and be in harmony with nature. 
This nourishing workshop will conclude with restorative yoga and yoga nidra using blocks, blankets, bolsters and other props to create spaciousness and ease whilst inducing complete physical, mental and emotional relaxation. You will receive practical knowledge for aromatic acupressure and how to incorporate  into your daily life as well as a complimentary blend of immune boosting essential oils. 
Stephanie is an experienced clinical aromatherapist and yogini, bringing a healing approach to teaching. In this workshop essential oils are chosen that specifically to support the immunity in the body. Stephanie believes we all have the power to heal from within, placing much emphasis on the importance of slowing down through the power of attention on intention. This is where the magic takes place. The way Stephanie teaches reflects all of this. Her aim is to provide a nurturing and supportive place for you to explore your journey in your own unique way, bringing each woman back home to herself through the therapeutic practices of well woman yoga, aromatherapy and yoga nidra.
Becky is an experienced yoga teacher and brings with her a wealth of knowledge. Her aim is to encourage deep enquiry to tune in with the body's intelligence, through conscious breathed centred movement and mindfulness. In this workshop she will bring awareness to the body's immunity by stimulating and developing the physiological systems through vinyasa flow moving into yin yoga which involves deeper and longer holds, to work past the muscles and begin to activate fascia and the meridians associated with autumn/winter and immunity. 
Please reserve your place by email: 
[email protected]
RESTORATIVE YOGA WITH THAI MASSAGE ASSISTS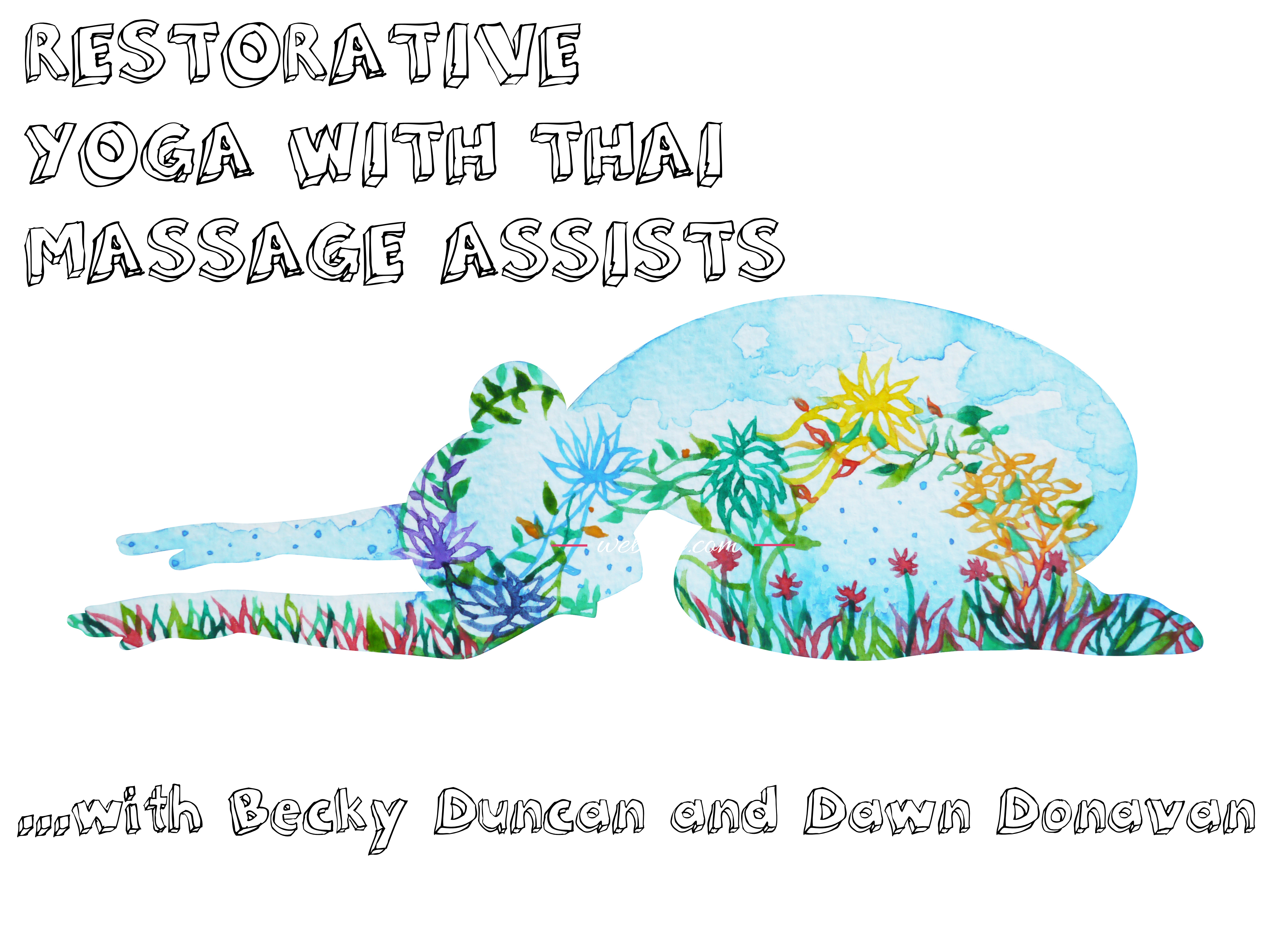 **BACK BY DEMAND**
Friday the 6th of December
2hr 15m of utter bliss…
The perfect time of the year to take a couple of hours for yourself, to heal, nourish and support body mind and soul!
This class transitions you through a number of beautifully grounded postures, with the use of props and bolsters to support the body and encourage the muscles to let go and relax. Dawn will be using Thai massage techniques to assist the whole body to experience deeper relaxation. This ancient healing system combines acupressure (gentle pressure on energy lines) and Indian Ayurvedic principles aiding towards freeing up energy while working on pressure points.
A cup of healthy warming soup will be served afterwards with delicious artisan bread…..
Due to the nature of this workshop spaces are limited to keep it special. 
Please book to reserve your place: [email protected]
Joyful Yoga Retreat with Becky Duncan and Stephanie Satriawan
"There is a magic with you and all round you. Look for the magic in your life and let it work wonders…"
A blissful eco chic retreat, rediscovering your joy and balance through dynamic yoga and yoga nidra were you can empower yourself to reignite your spark.
During the 6 day retreat we will create a scared space to connect to ourselves, others and our world in a heartfelt, authentic and intentional way. Free to focus on physical and emotional needs. Feel lighter, energise your body and mind, and move forwards with ease and grace…. reconnect to your JOY.
"Joy is an intentional, cultivated and profoundly beautiful life force energy."
Becky and Stephanie are experienced yoga teachers, offering you a range of classes from: Vinyasa, Yin, Restorative and Yoga Nidra.
This will be a small and exclusive retreat, numbers are limited to keep it special.
For full details on what this retreat includes, to see where we are staying and what makes it special please message me!
Limited spaces only due to the nature of this workshop.
New Year and New Vibrations Gong & Sound Bath – January
Restorative Yoga with Thai Massage –  February
Movement into Stillness "A spring migration" – March
Restorative Yoga with Thai Massage –  April
Sound & Gong Bath 'Opens your ears and empty your mind – May