Events & Workshops
Restorative yoga with Thai massage assists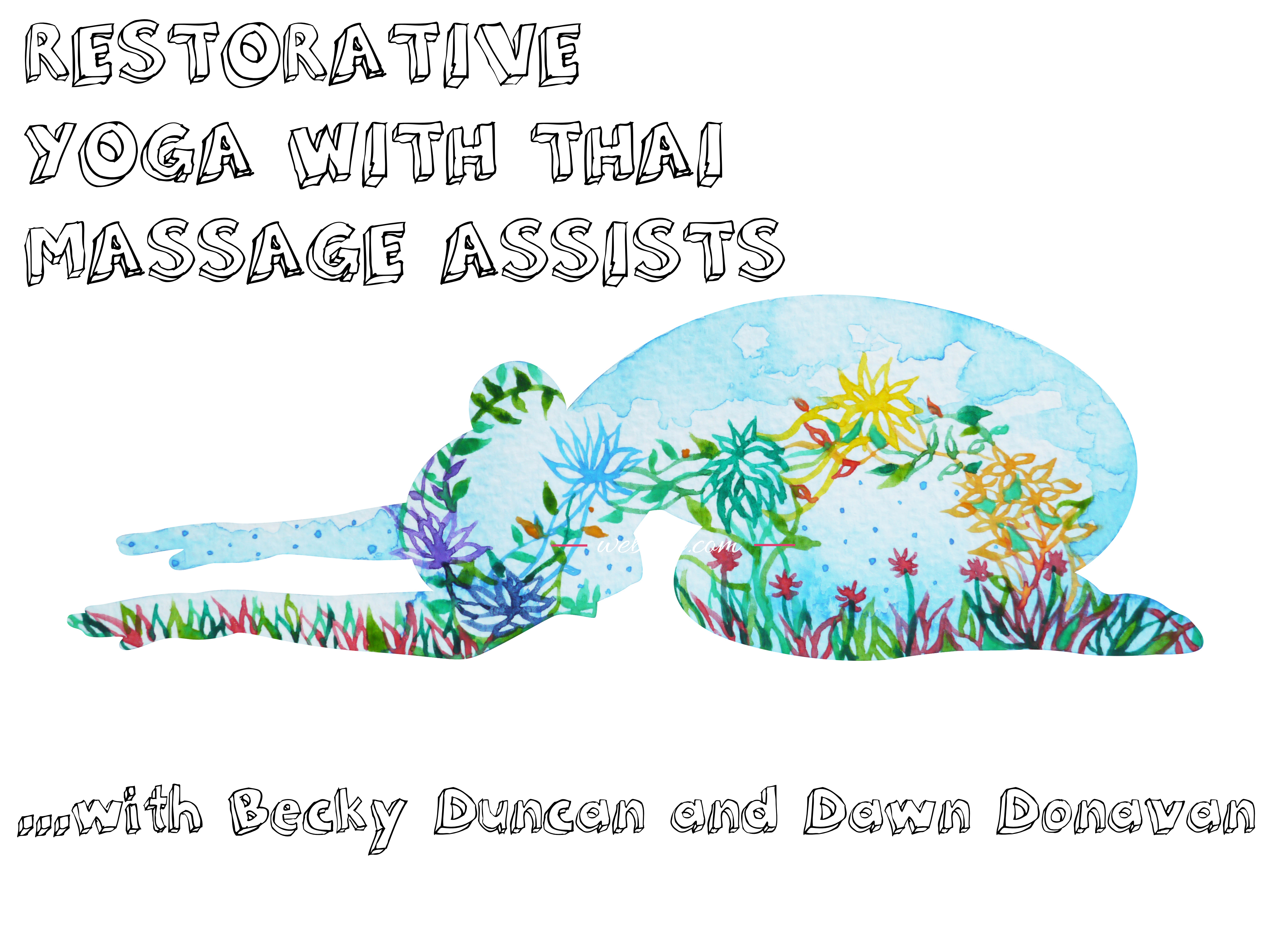 Join Becky Duncan and Dawn Donavan for 2 hours of utter bliss.
A practice designed to de-stress and unwind your body, mind and soul.
This class transitions you through a number of beautifully grounded postures with the use of props and bolsters to support the body and encourage the muscles to let go and relax. Dawn will be using Thai massage techniques to assist the whole body to experience deeper relaxation. This ancient healing system combines acupressure (gentle pressure on energy lines) and Indian Ayurvedic principles aiding towards freeing up energy while working on pressure points.
Ayurvedic Tea and bliss balls will be served afterwards.
Limited spaces only due to the nature of this workshop.
To book please click here: [email protected]
Progress your practice – A journey into arms balances
There are some things we just don't have time for in an regular yoga class! Come and explore new shapes, a little philosophy and deepen your yoga practice.
We will be featuring the following arm balances:
– Crow (Bakasana)
– Side Crow (Parsva Bakasana)
– Flying Crow (Urdhva Galavasana)
Warming up the body and stretching the right muscles so you have the best chances to maximise your time playing around with these wonderful yet challenging postures in a safe and constructive way.
As with arm balances and in particular with crow pose the arms (elbows and wrist alignment) need to be in a similar shape to Low Plank (Chaturanga Dandasana) so it will be a good opportunity for us to also do a little focus around this (often overlooked) linking pose which we use so much in our vinyasa flow classes.
A fun and exploratory workshop and good opportunity to ask questions about other parts of vinyasa flow.
Open to all with a minimum of 6 months yoga practice.
Venue: Mokshala Yoga Centre – Saffron Walden
Please book direct with Mokshala http://www.mokshalayoga.co.uk
Joyful Yoga Retreat with Becky Duncan and Stephanie Satriawan
"There is a magic with you and all round you. Look for the magic in your life and let it work wonders…"
A blissful eco chic retreat, rediscovering your joy and balance through dynamic yoga and yoga nidra were you can empower yourself to reignite your spark.
During the 6 day retreat we will create a scared space to connect to ourselves, others and our world in a heartfelt, authentic and intentional way. Free to focus on physical and emotional needs. Feel lighter, energise your body and mind, and move forwards with ease and grace…. reconnect to your JOY.
"Joy is an intentional, cultivated and profoundly beautiful life force energy."
Becky and Stephanie are experienced yoga teachers, offering you a range of classes from: Vinyasa, Yin, Restorative and Yoga Nidra.
This will be a small and exclusive retreat, numbers are limited to keep it special.
For full details on what this retreat includes, to see where we are staying and what makes it special please message me!
Limited spaces only due to the nature of this workshop.
New Year and New Vibrations Gong & Sound Bath – January
Restorative Yoga with Thai Massage –  February
Movement into Stillness "A spring migration" – March
Restorative Yoga with Thai Massage –  April
Sound & Gong Bath 'Opens your ears and empty your mind – May